This week the Joint Committee on Vaccination and Immunisation (JCVI) reaffirmed that Covid-19 is very low risk to children aged 5 to 11. It would take four million doses of a vaccine to prevent one admission to intensive care. So with Covid at such low risk, is there any benefit to vaccination?
Vaccination would only prevent a small numbers of hospitalisations in healthy children
JCVI has said that vaccination of children aged 5 to 11 years who are not in a clinical risk group would prevent a relatively small number of hospitalisations or intensive care admissions. For a variant like Omicron, it would take around four million vaccine doses to two million children to prevent one admission to ICU. For less severe illnesses, 58,000 child vaccinations would prevent one-child hospitalisation. Children admitted recently to hospital with Covid had an average length of stay of 1-2 days. The Omicron wave saw no more children in hospital than before Omicron hit the UK.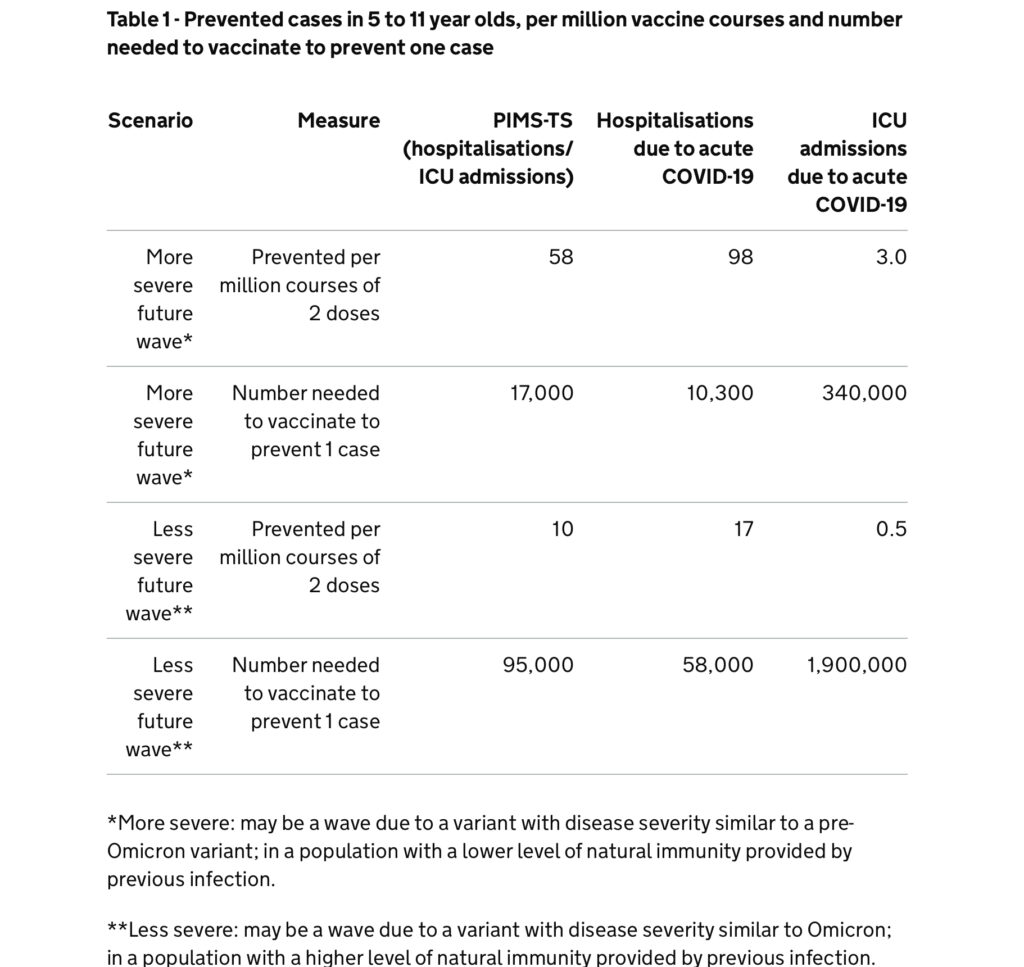 Risks of the vaccine
Vaccination of any kind does not come without risks and Covid-19 is a virus that disproportionately affects older people and those in clinical risk groups. Acknowledging the latter, the JCVI had advised that children aged 5 to 11 in a clinical risk group should be offered Covid-19 vaccination.
In their latest statement, the JCVI talk of myocarditis in children following vaccination. Myocarditis is an inflammation of the heart muscle which can reduce the heart's ability to pump and cause rapid or irregular heart rhythms. They cite that in the United States less than 2 cases of vaccine-related myocarditis were reported per million doses, with most cases reported after the second dose. A study in Denmark confirms that vaccine-associated myocarditis exists, but is low risk. I should also add there is a risk of myocarditis from the virus itself.
Conclusion
According to the JCVI, around 85% of children aged 5 to 11 would have had the virus by the end of January 2022. They say natural immunity arising from prior infection will contribute towards protection against future infection and severe disease. Bill Gates this week said that the Omicron variant was a type of vaccine, creating immunity in the population, and was doing a better job than the vaccines themselves.
A key part of this week's announcement from the JCVI was on informed consent. The JCVI says that "In all instances, the offer of vaccination must be accompanied by appropriate information to enable children, and those with parental responsibility, to provide informed consent prior to vaccination".
In recent weeks, we have had medics misleading the public on the risk of Covid-19 in children. NHS England deleted a video containing significant misinformation overplaying the risk of Covid in children. The BBC radio show More Or Less dedicated a full show explaining how low risk the virus was to children.
It is not for me to advise if someone vaccinates their child or not, but hopefully, this blog provides information to assist in any decision. In needing four million doses of a vaccine to prevent one admission to intensive care, the risk in children of serious illness is very low.
Follow me over on Twitter, Gettr, Instagram, or Facebook for my daily updates and you can watch me discussing the data in this blog and much more in a recent interview on Talk Radio.