Each day we get told across many of the prominent news channels of the number of patients with Covid-19 in hospital. I have seen many journalists broadcasting from critical care units highlighting the NHS struggles, but how has the total number of patients this winter different from previous winters? Looking at the data, this winter has seen fewer patients than four of the most recent five winters.
Jan 2021 at the height of wave 2 there were 75% more patients in critical care than 'normal'
Adult critical care helps people with life-threatening conditions and injuries. Each winter, NHS England publishes a range of statistics on the daily situation within hospitals to understand the demand placed on them.
Covid-19 led to a surge in demand last winter with extra critical care beds required to manage the number of patients requiring treatment. Towards the end of January, while there were significant restrictions on the population, around 5,550 patients were in critical care beds in England. This was around 75% higher than at similar points in the four preceding winters, demonstrating the impact of the virus.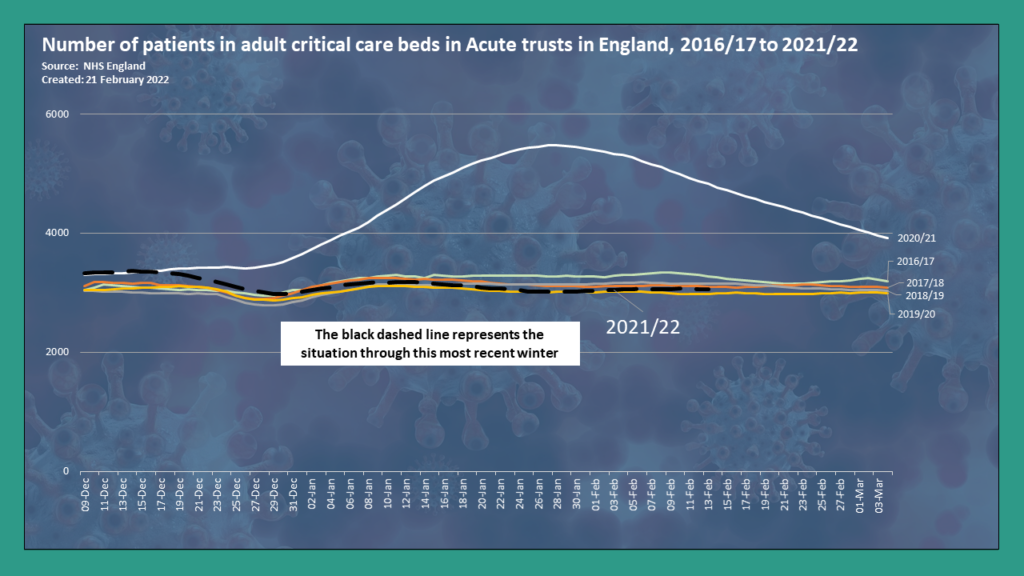 Winter 2021/22 seen fewer patients in adult critical care than recent winters
Looking 12 months on and with a less virulent strain of the virus, most of the vulnerable vaccinated, and huge numbers having recovered from Covid, the numbers in critical care do not differ from life before the pandemic. The total number of patients in critical care beds in England has actually been lower than three of the last four winters before the pandemic struck.
The latest situation in critical care in England is one of falling demand on the service because of Covid-19. 8.7% of beds have a patient with Covid and there are now three times as many beds unoccupied as there are patients with the virus. Anywhere between 40-55% of patients with Covid are predominantly treated for other things but have tested positive, so the Covid specific demand is lower.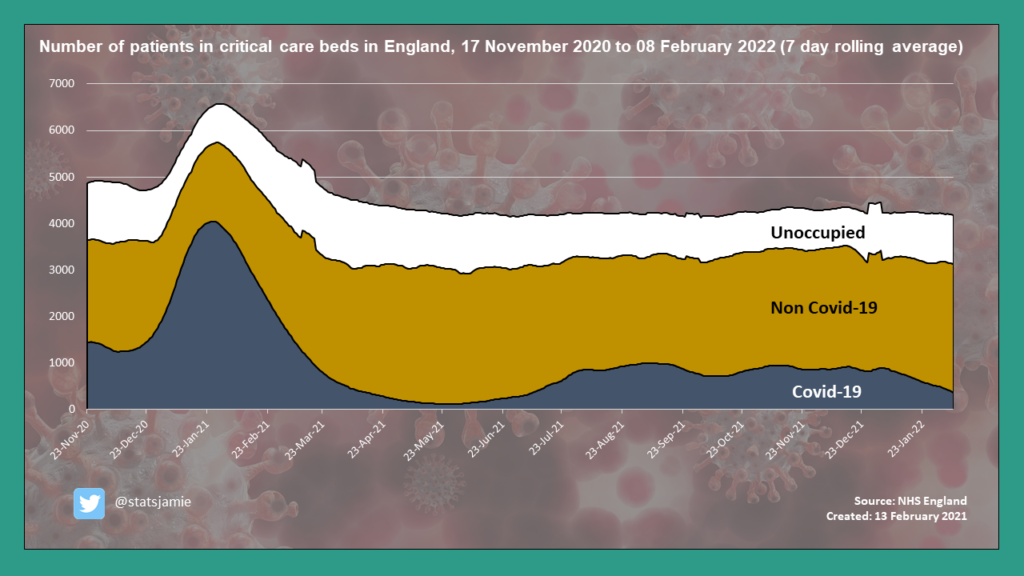 Conclusion
Vaccination, prior infection immunity, a less severe strain, and many vulnerable dying through the pandemic will have contributed to Covid not causing a surge in demand for critical care beds this winter. As I recently wrote, SAGE modeling of the pandemic this winter was woeful at best, with estimates of deaths 93% out.
We know those at the highest risk from the virus. We need to prioritise those who benefit most from vaccination and look at the model of NHS service provision so there is no talk of restrictions next winter. Also at the moment, the total number of deaths registered from all causes is in line with a typical winter, giving more signs we are well past the worst of the pandemic.
Follow me over on Twitter, Gettr, Instagram, or Facebook for my daily updates and you can watch me discussing the data in this blog and much more in a recent interview on Talk Radio.