Lives have changed dramatically since Covid-19 hit the UK with over 100,000 people dying prematurely and millions more affected financially, mentally and wider health harms. With Covid-19 being endemic across the world we now need to learn to live with the virus and accept a level of risk as we open up society.
We must not forget that a life taken early is an individual family tragedy but we have learnt through a huge data gathering the relative risk of the virus to the population. Over 4 in 5 deaths have been among people aged 70 and over with very few deaths for those younger where there was no underlying health problem. Death is not the only outcome and many who have had the virus may have to live with other health complications. However, as with all things in life, Covid-19 poses a risk that we now need to learn to live alongside.
The biggest change to the risk profile of the virus has been the vaccine rollout which means the risk of Covid-19 is not as high as it was in 2020. The Government cited vaccines as a game-changer, but how much of the game has changed since the rollout?
Right now across England, 79% of adults have received one vaccine dose, with 57% receiving both. But with the vaccine rollout prioritising those most vulnerable, those at most risk are far more likely to have both doses. For those aged 70 and over, over 90% are fully vaccinated so we know the vast majority of those at risk by age have vaccine protection they did not have before. It is not 100% as some people will have chosen not to have the vaccine and some cannot have a vaccine for medical reasons, but it is significant coverage of those at risk. As of 6th June, of the clinically extremely vulnerable across all age groups, almost 90% had received both doses of a vaccine.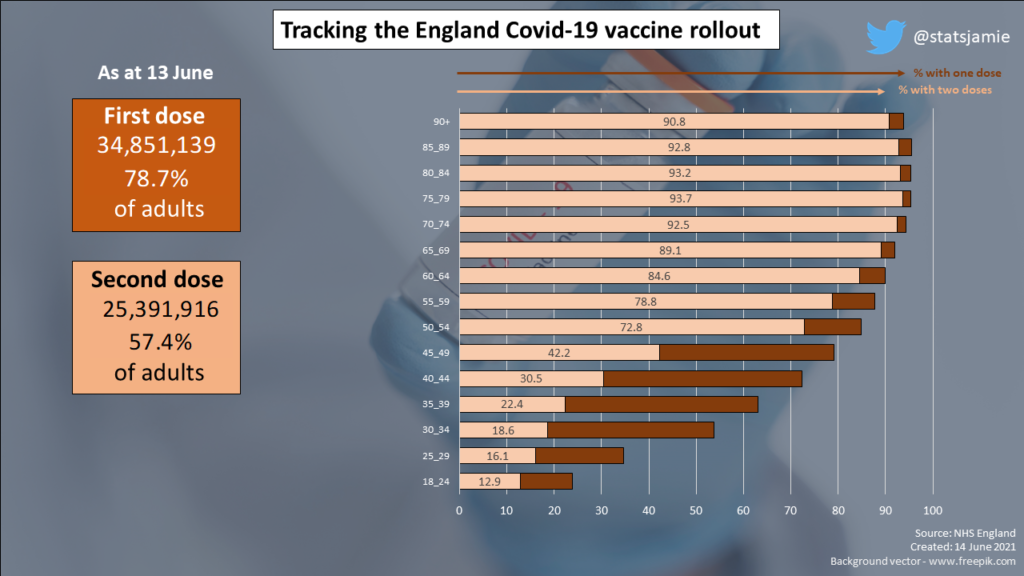 With most of the vulnerable vaccinated why is there a debate around not ending restrictions in England?
Over the past 6 weeks, we have seen rises in the number of cases of Covid-19 through the Delta (Indian) variant, predominately spreading across the North West. It is not surprising cases have risen as the country has moved towards fewer restrictions – this was to be expected. The largest growth in cases has been among people aged 10 to 29 who no doubt have been the age groups mixing most since being allowed greater freedoms.
Living with Covid-19 risk
The total number of deaths in England has been below the average levels we saw between 2015 and 2019 (pre-pandemic) for over 2 months. This is good news, but it is almost inevitable that if we remove all restrictions on lives, cases will rise and so will deaths. We now need a grown up debate on what is an acceptable level of deaths as we live with Covid.
In England, in any year many people die from respiratory viruses and in 2019 (pre-pandemic) there were 24,400 deaths registered where the underlying cause was pneumonia or flu. Respiratory deaths are higher in the winter than summer but on average this equates to 72 deaths per day because of pneumonia or flu. There will be many more deaths where pneumonia or flu was not the main reason for the death but was a factor, just as Covid is not always the primary cause of death for people who catch it but sadly die. It is likely the order of magnitude of this would mean pneumonia or flu will have an impact on death in over a hundred thousand people.
Deaths in England where Covid-19 was the underlying cause have been falling for several months and in the most recent week stood at around 10 per day. Even with the social distancing and measures to curb Covid-19 we have seen 39 deaths per day because of pneumonia or flu, a magnitude with is 4 times higher than Covid.
So with Covid-19 endemic across the world now we need to learn to live with the virus and live our lives with the risk that it poses. To do this, we need a grown-up debate on the level of risk we should live with just as with many other viruses. Ridiculously, many commentators are not ready for this debate and want restrictions to continue. The economic harm and wider health harm of restrictions mean this is not a path that can continue indefinitely.