Over the past 24 hours, the BBC news website has led with the headline 'UK in early stages of third-wave – scientist'. But should we be panicking about a third wave right now? I am not so sure as we expect to see cases rise as more people mix and the critical data to focus on are hospitalisations and deaths, which remain low.
The headline of a third wave came following an interview on Radio 4's Today programme with Prof Ravi Gupta, from the University of Cambridge. He said, "Of course the numbers of cases are relatively low at the moment – all waves start with low numbers of cases that grumble in the background and then become explosive, so the key here is that what we are seeing here is the signs of an early wave."
Through the pandemic we have seen polarisation within the science community, with some favouring hard-line restrictions, others against any, and many somewhere in the middle. But what does the data actually show us at the moment?
If we plot a map of Covid-19 cases across England and Wales and look at the percentage of tests coming back positive we can see most of the local authorities are green, showing low rates of Covid-19. I choose to use this metric as it overcomes the challenge of different numbers of tests carried out in different areas.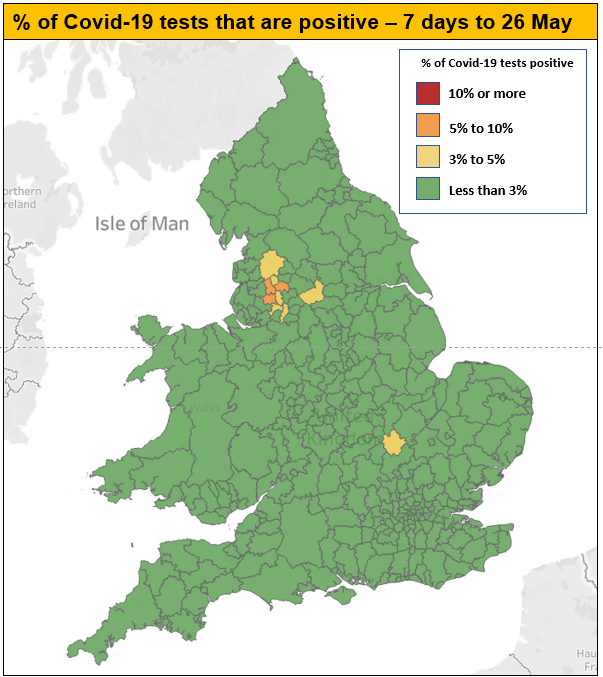 The North West of England has seen a rise in cases in recent weeks but a closer look at the data shows that most cases within the North West are among younger people, in particular among the ages of 10 to 19, where we know the virus poses little risk. Bolton has been one of the hot spots within the region and I tweeted a few days ago a chart showing that cases were most commonly found in those aged 10 to 19.
When the easing of restrictions came into force with more community mixing, it was inevitable cases would start rising again. At this stage of the pandemic, with most of the population having antibodies, cases alone have less relevance.
Is it scaremongering to be putting out headlines of a third wave?
The ultimate worst-case outcome for someone who gets the virus is death and we know that 83% of the deaths have been among people aged 70 and over according to data from ONS While the virus can affect younger people, to limit both deaths and overwhelming the NHS it would be sensible to see how cases develop within this age group.
There was little testing during the first wave in spring 2020, so if we focus on data from September 2020, at the height of the second wave over 10% of cases in England were among people aged 70 and over. This has been falling in recent months and is down to 2.3%.
This is the lowest we have seen over the period. In terms of numbers, at the height of the second wave, over a 7-day period we saw 35,000 cases among people aged 70 compared with around 300 at the moment.
If we also look at the average age of identified cases that has been falling in recent months. NHS bosses have said the cases that end up in hospital are less serious with very few ending up in intensive care.
Data from ONS suggests the proportion of the population across Great Britain suffering from depressive symptoms has more than doubled since the pandemic took hold. The NHS currently cannot cope with treating everyone for such symptoms with an ITV report saying beds in the North West of England are full. Government policy can provide a much needed dose of medicine by allowing people more freedom to go about living their lives to ease these problems.
Remember Covid-19 is not going away and new variants will emerge. We cannot expect to eradicate the virus, especially with it being endemic across the world so we need to balance risk of Covid as we do with many other causes of death.