Novak Djokovic has just won his seventh Wimbledon title but currently cannot win the US Open for a fourth time because the US Government has a ban on unvaccinated international travelers entering the country. But the latest data on the likelihood of someone testing positive for Covid-19 shows that Djokovic would be just as likely to take the virus into the USA as the vast majority of people who can show proof of vaccination. This shows the ban on the unvaccinated like Djokovic is not scientific.
Individuals who have not had a fourth vaccine in the past 90 days are just as likely to test positive for Covid-19 as someone unvaccinated
The Centers for Disease and Control and Prevention in the USA explains that someone must be fully vaccinated with the primary series of an accepted COVID-19 vaccine to travel to the United States by plane if a non-U.S. citizen. They define fully vaccinated as those who have had both doses of a 2-dose series or a single dose of a 1-dose series. There is no requirement for a booster dose to travel to the USA.
The latest data from the Office for National Statistics (ONS) shows us that individuals who have not had a fourth vaccine in the past 90 days are just as likely to test positive for Covid-19 as someone unvaccinated. Most people in the UK have not had a fourth vaccine, and this data covers the fortnight ending 07 May 2022. The data is consistent with reports over the winter that COVID-19 protection wanes 90 days after having had a dose of a vaccine.
The ONS infection survey looks at the characteristics associated with testing positive for SARS-CoV-2, the coronavirus causing the COVID-19 disease. This focuses on infections among those living in private residential households and excludes those in hospitals or care homes.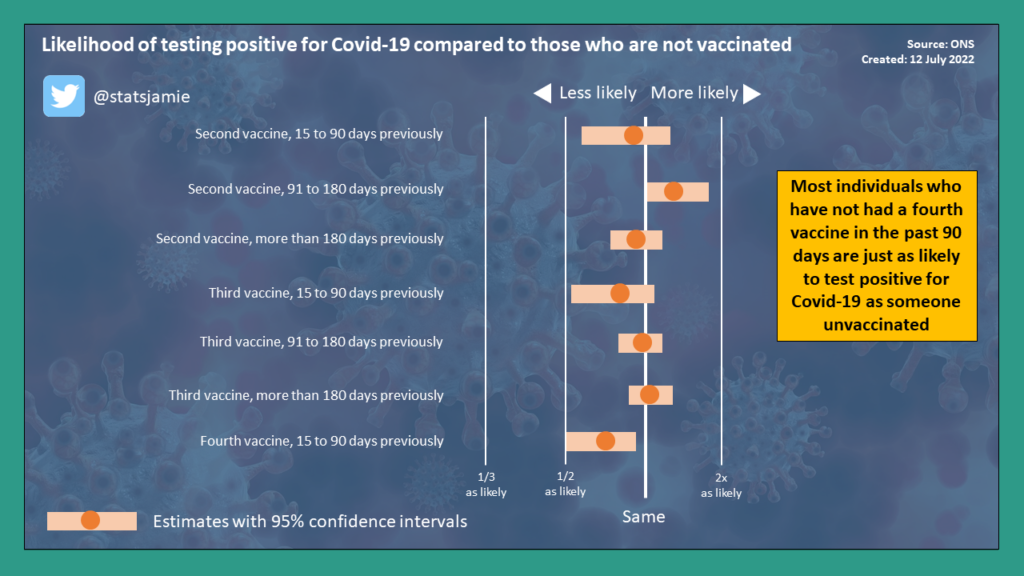 Conclusion
The CDC defines someone fully vaccinated if you have had two doses of a vaccine. There is no requirement for a booster or a fourth dose. The likelihood of someone fully vaccinated testing positive for COVID-19 is the same as someone unvaccinated. Having a policy that discriminates between the two groups makes no sense scientifically.
Countries around the world are removing the requirement to show vaccination status to enter, with Australia adding themselves to the list recently. Countries such as the USA are imposing policies that are stopping people from working with no evidence to support such a position. Some will cite that an unvaccinated person may be more likely to require healthcare, but this varies considerably by age, and also individuals have health insurance.
I have had two COVID-19 vaccinations but will not support any country that continues with these tyrannical rules. If a vaccine pass did work, you would see all countries adopt them, but many are waking up and removing the requirement. But for some prominent countries, the travel madness continues despite vaccines not stopping COVID-19.
Find me on social media
Follow me over on Twitter, Instagram, Facebook, or Gettr for my daily updates, or read my recent blog looking at how we are set for an annual record number of channel migrants by September of this year.