Earlier this year the Home Secretary, Priti Patel, announced a joint new migration and economic development partnership with Rwanda with the aim to curb people-smuggling across the English Channel but the latest data suggests the UK is on course for a record number of channel migrants by September of this year.
Since announcing the plan on 14 April 2022, estimates from the Ministry of Defence show over 7,000 people have entered the UK illegally in small boats crossing the channel. Various estimates put the accommodation costs alone for those entering illegally and awaiting an asylum application at close to £1.8bn per year, and rising.
Based on current trends record channel migrants by September
In June 2022, 2,773 people have made the crossing in small boats, according to data from the Ministry of Defence. This is more than the year before the pandemic, where 1,843 people were detected in 2019. In 2020, we saw a four-fold increase in people making the crossing, with 8,466 detected. Record numbers again arrived in 2021 with a further three-fold increase to 28,526 detected, and we are on course for another record in 2022.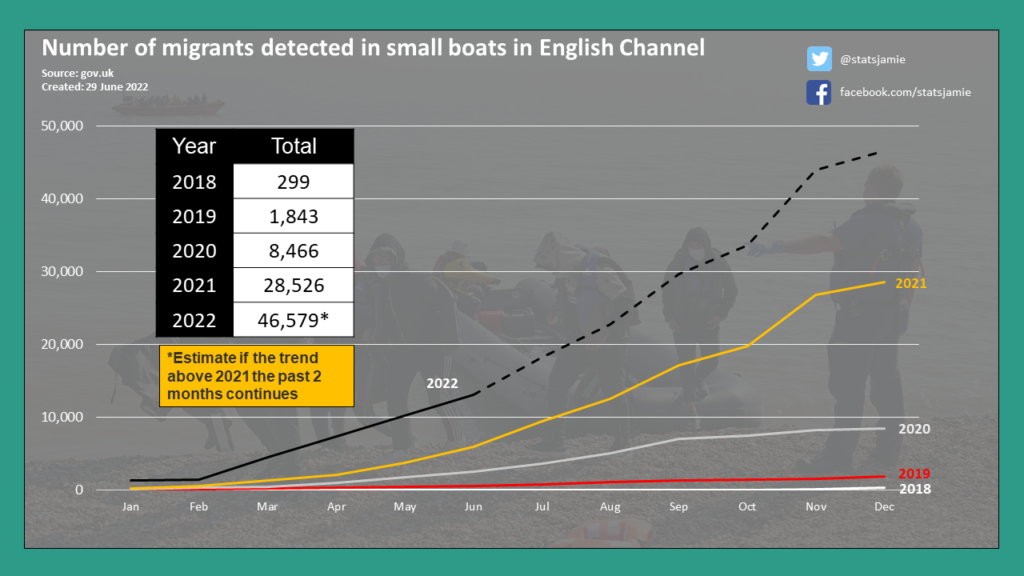 9 in 10 channel migrants are male with over half coming from Afghanistan, Iran, and Iraq
Each quarter, the Home Office publish more detail on channel migrants detected on small boats, including the nationality, age, and sex of the individuals. Collating this for some can be difficult, as documentation papers are not available. In the first quarter of 2022, around 4,540 people made the crossing in small boats and of these, nine in ten were male. The vast majority, 76%, who land on these shores are between the ages of 18 and 39, and Afghanistan, Iran, and Iraq are the sources of over half of the migrants.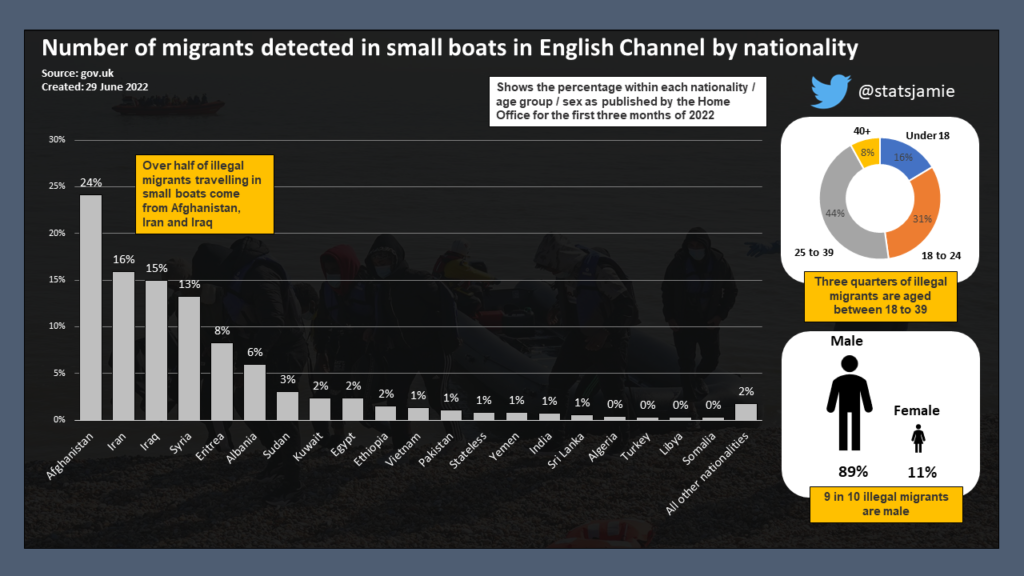 Conclusion
While individuals are awaiting an asylum application, they cannot contribute to the UK economy and are a net cost to the UK taxpayer. Delays in processing asylum applications have increased under Priti Patel, with the numbers waiting over six months for a decision trebling since 2019. The increasing trend in delays started before the pandemic hit the UK. We are seeing more asylum applications but yet a fall in decisions.
Aside from the costs of providing accommodation while awaiting a decision, those seeking an asylum decision get wider benefits, with bespoke health provisions announced recently. While the Government continues through the courts on its Rwanda plan, it urgently needs to review its asylum processing timelines in view of record channel migrants, as these are woefully inadequate and costing the taxpayer far more than it should.
Follow me over on Twitter, Instagram, Facebook, or Gettr for my daily updates, or read my recent blog looking at how Prince Harry's private Jubilee flight had 18x the carbon footprint of the average Briton in a year.
If any journalist wants to use any of this content in any of their own stories feel free to do so.
* Blog updated on 30 June to remove a reference that those travelling across the channel and arriving in the UK is illegal as it is not illegal to travel to any country to seek asylum.