Through the COVID-19 pandemic, countries introduced many measures to control the spread of the virus. One such measure was a requirement to show proof of vaccination for international travel. Many countries have scrapped this although prominent European countries such as Germany and Spain*, still require proof of vaccination or a negative PCR test. The travel madness continues despite vaccines not stopping you from catching COVID-19.
Most individuals who had a vaccine between 3 and 6 months ago are just as likely to test positive for COVID-19 as someone unvaccinated
The latest data from the Office for National Statistics (ONS) show us that those vaccinated between three and six months ago, the majority of those vaccinated in the UK, are as likely to test positive for COVID-19 as someone unvaccinated. This covers the fortnight ending 26 March 2022. There is a more immediate benefit from the vaccine as those having a dose within 90 days are less likely to test positive than those unvaccinated. The data is consistent with reports over the winter that COVID-19 protection wanes 90 days after a second Pfizer vaccine.
The ONS infection survey looks at the characteristics associated with testing positive for SARS-CoV-2, the coronavirus causing the COVID-19 disease. This focuses on infections among those living in private residential households and excludes those in hospitals or care homes.
Interestingly, those who had a second dose over 6 months ago and then chose not to have a booster vaccine were less likely to test positive than someone unvaccinated.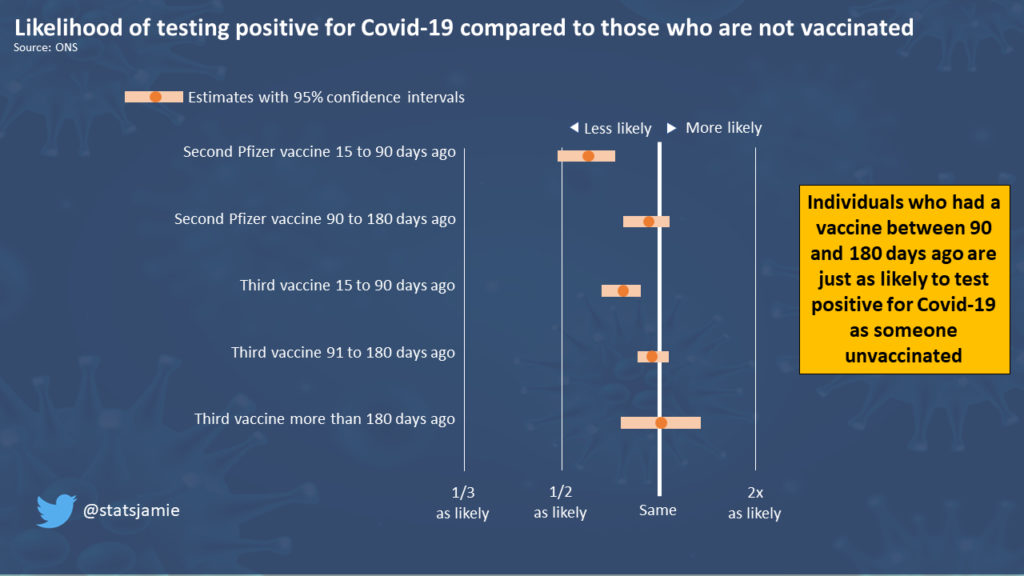 Conclusion
The vast majority of people in the UK had their last vaccine, be it a second or third, between three and six months ago. The likelihood of them testing positive for COVID-19 is the same as someone unvaccinated. Having a policy that discriminates between the two groups makes no sense scientifically. For some countries, you can show proof of recovery from COVID-19 as an alternative to vaccination but with testing being ramped down this proof will over time vanish.
We have the situation where prominent countries across the world ask those unvaccinated to provide a negative PCR for entry but those vaccinated can enter freely, even if they have the virus.
I have had two COVID-19 vaccinations but will not support any country that continues with these tyrannical rules. If a vaccine pass did work, you would see all countries adopt them, but many are waking up and removing the requirement. But for some prominent countries, the travel madness continues despite vaccines not stopping COVID-19.
Just this week, New Zealand started allowing international visitors from some countries, but even if vaccinated, you still need a test. If there was ever a human definition of madness, Jacinda Ardern would come pretty close to it.
* Update 22 May – The Spanish authorities on 21 May updated their policy to allow people those not fully vaccinated entry if they show a negative PCR or antigen test on arrival. Fully vaccinated means having had at least two doses of a Covid vaccine within the past 270 days, ruling out most double vaccinated Brits from meeting the vaccine requirements.
Follow me over on Twitter, Instagram, Facebook, or Gettr for my daily updates or read my recent blog looking at how Covid vaccines in children would require 4 million doses to prevent 1 ICU admission
If any journalist wants to use any of this content in any of their own stories feel free to do so.