Boris Johnson has just announced no new restrictions this side of Christmas but it was only a year ago we were heading into the festive period with further restrictions and several months of lockdown ahead. There was some optimism as the first Covid-19 vaccines were administered. We had media headlines that ministers had pinpointed 15 million jabs for freedom to end the cycles of lockdown. So where are we a year on?
The vaccine rollout
As of today (21 December) the four nations of the UK report we have administered 128,516,864 vaccinations – 8.5 times the 15 million promised a year ago. Surely this would be enough to end the talk of lockdowns, firebreaks, and restrictions? Well no, the Scientific Advisory Group has advised the UK Government that more stringent restrictions need to be brought in soon to stop hospital admissions from going up.
The concern has emerged because of the threat of the new Omicron variant which is spreading across the UK. So far, the UK response is to prioritise the NHS at all costs to roll out booster vaccines for all. Currently, in England, we have 30 million boosters into arms, making up over 52% of the population aged 12+, and a higher proportion of adults. Importantly, at least 87% of people aged 65 and over have had a booster vaccine, rising to 96% for those aged 75 to 79.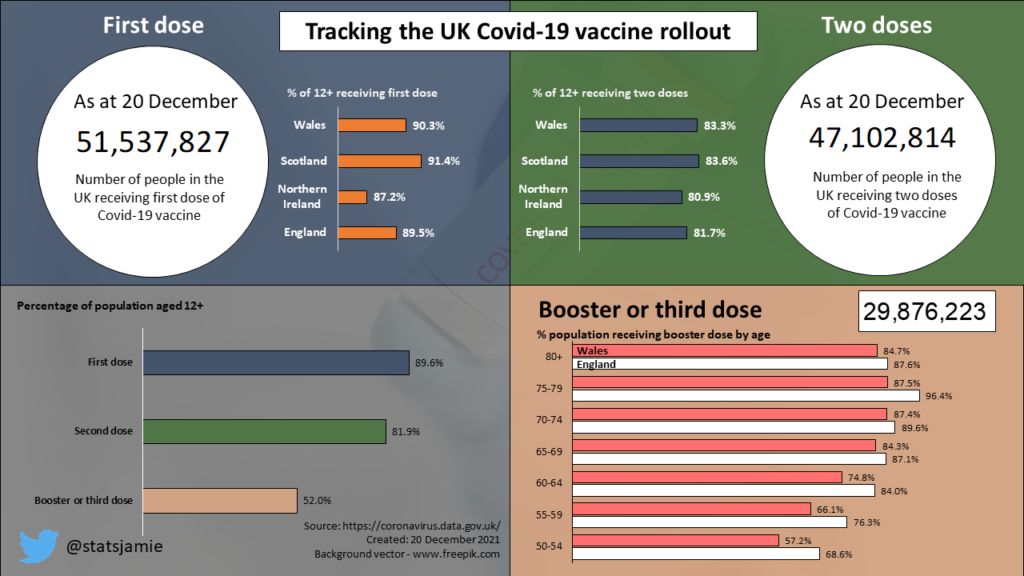 Impact on elderly
So why is this important? We know that Covid-19 is a virus that disproportionately affects the elderly. If we look to this time last year, of those admitted to hospital with the virus, 70% were aged 65 and over, with very few vaccinated. Patients in hospital with Covid-19 in England are 60% lower than this time last year, with Wales and Scotland, 81% and 49% respectively. The key Government aim this winter is to ensure decisions do not overwhelm the NHS with Covid-19 patients that affect the care for others. Remember, since the start of the pandemic, 87% of all deaths linked to Covid-19 have been among those aged 65 and over.
Conclusion
With significant numbers of the most vulnerable having had three doses of a Covid-19 vaccine, how worried should we be about the latest SAGE numbers? I recently looked into the likelihood of 5,000 Omicron deaths per day attributed to Professor Neil Ferguson. I could only come to one conclusion on that number – nonsense. Throughout the pandemic, the scenarios from SAGE have often turned out to be way off the mark. In September there were warnings that without Plan B measures there could be 2,000-7,000 hospitalisations a day, we never got over 871.
Government scientists and those who sit on the advisory panels have never had so much spotlight. Sadly, I think they are not so keen on giving this up and will never advise a route to freedom for some. The same scientists say we cannot compare the UK to South Africa – who alerted the world to Omicron. If we look at their latest data, we can see Covid-19 cases have come down and we are not seeing the same relationship between cases and deaths – the latter being so much smaller.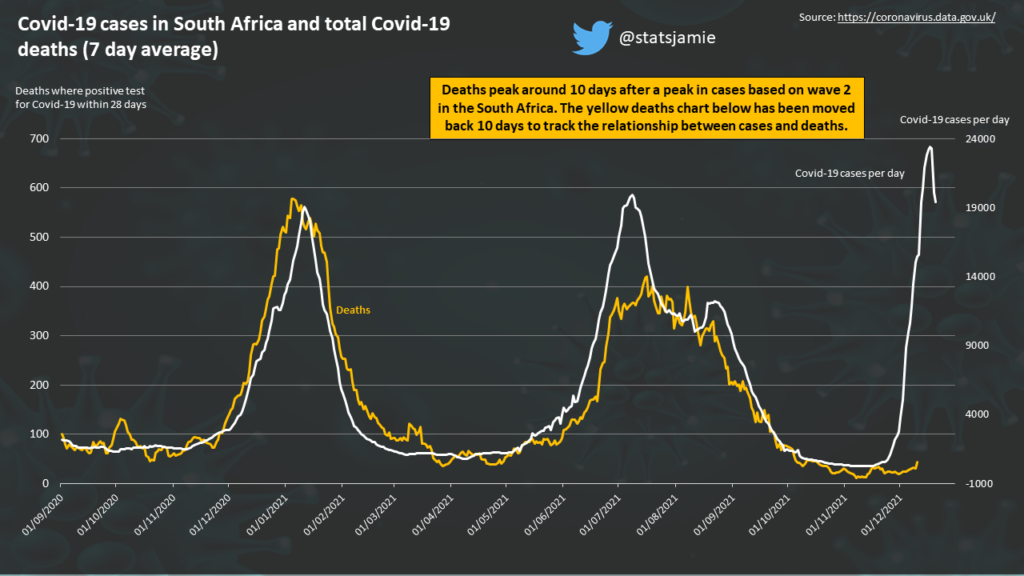 Maybe we can trust the scientists who told us Omicron was more transmissible but less deadly. Maybe we can have a glimmer of hope we are towards the end of the pandemic. Time will tell and if the latest SAGE scenarios are way off again, then the little credibility they have right now will be gone. If they are right I will update this blog and give them credit.
Follow me over on Twitter, Gettr, Instagram, or Facebook for my daily updates.